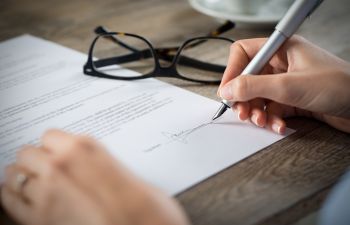 The American Dream is built upon the promise of our forefathers. It is the concept that every person, no matter what station they hold in life, can achieve their dreams through hard work and sacrifice. Home ownership and a college education are both considered paths to achieving the American Dream, and for many people, owning a business is another. If you have put in the sweat equity and are ready to start your business, it is important to have an attorney on your side who can help you navigate through contract law so you can see your dream flourish.
Business Contract Basics
In order for a business contract to be valid, it must contain the following elements:
A specific offer
Acceptance of the offer
Mutual consent of the offer
Consideration – something of value must be exchanged between the parties
The contract must be for a legal purpose
Understanding the Differences
There are different agreements or contracts that can be of benefit to you and your new business. General business contracts, sales related contracts, partnership agreements and property leases are only a few examples. It is vital to the success of your business to know which contract or agreement will match your needs.
One Size Does Not Fit All
Like you, your business in unique, and your business contracts should reflect your specific needs. It is important to have your contracts and agreements written with you in mind. Be wary of contracts that are generic and do not reflect your own interests.
Starting a business can be exciting, but there are many moving parts to consider. It is easy to let some things get lost in the activity; but if you do not have solid contracts, your business could be doomed from the start. Contact the law offices of S. Mark Burr to schedule a consultation. Our team can help draft the right contracts and agreements to get your business started on the right track.