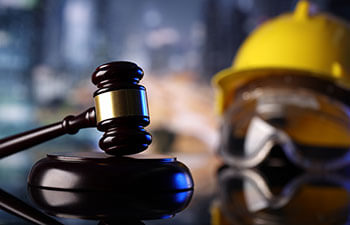 It would be best not to underestimate the importance of working with an experienced construction lawyer before kicking off a new project. Whether you are an engineer, investor, owner, developer or contractor, hiring a construction lawyer is vital to protect your interests during and after the project is completed.
During the construction process, a collaboration between several parties is necessary to complete the project successfully. Along the way, legal challenges and disputes are common. With significant legal, financial and safety considerations at risk, hiring a professional lawyer for construction projects is critical.
What Does a Construction Lawyer Do?
With legal counsel and guidance, you can avoid making a mistake on a contract that could cost you thousands of dollars. A construction lawyer can help you create a standard contract that you can use for each project and examine client contracts before you sign them. In some situations, a lawyer can help you negotiate better terms.
A construction lawyer can help you resolve any issues arising from a construction project. There are many reasons why these lawyers might be needed, but two of the most common are payment disputes and employment issues.
Anyone who interacts with the construction process may need a construction lawyer at some point. Construction law attorneys help a broad range of clients; they represent property owners, individual workers, large companies and sureties.
The Benefits of Hiring a Construction Lawyer
Hiring a construction lawyer is beneficial because they are familiar with the construction process, the various parties involved and all the moving parts to consider. This can significantly increase your chances of a successful outcome while reducing the time you need to research.
A construction law attorney will help you throughout all phases of the project. Here are the top 12 benefits of hiring a construction lawyer:
Ensuring that you follow all local and federal building regulations
Reducing liabilities
Drafting property lines to prevent future disputes
Negotiating construction contracts
Drafting contracts
Modifying or terminating contracts
They can help with business planning and formation
They can represent you in wrongful death or personal injury lawsuits.
If you were not paid for the work you completed on a client's property, the lawyer can obtain a construction or mechanic's lien against the property.
They can represent you in court if someone sues you for construction defects or design flaws.
Employee relations issues
Dispute Resolution and Litigation
Hiring A Construction Lawyer
Your lawyer should be experienced and trustworthy, with considerable knowledge of commercial construction. Mark Burr is a real estate attorney with over three decades of experience working with commercial developers, lending institutions, engineers, architects and other groups involved in commercial construction projects of various sizes.
Are you ready to protect your business? Then, contact the Law Offices of S. Mark Burr, P.C. today to schedule a consultation regarding your construction law needs.