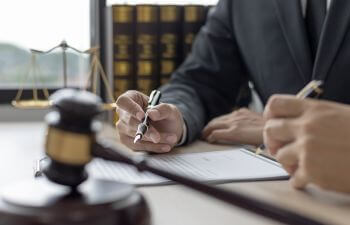 Starting a business on your own can bring many challenges. If you deal with partners, vendors or clients, there are certain expectations in the relationship. A business contract can help you avoid disputes and financial losses. However, the language used in the document is important.
Ambiguity in a business contract leaves the language open to interpretation. In turn, this can lead to parties disputing your intended conditions. Two areas where this is most common include project timeframes and costs. If you do not clearly outline what you can deliver and when, you run the risk of clients taking advantage.
You may know your business, but how much do you understand any applicable laws? Legal language can seem confusing to the uninitiated. Many small business owners turn to free templates to create business contracts. This approach is not recommended, as there are potential problems with the layout and wording.
Free Business Contracts
A free business contract template may include sections that do not apply to your client relationships. It is also important to ensure that the language used is unambiguous. You want to ensure the terms of your business arrangement are explicit and not up for interpretation.
Additionally, vague language is often used in these templates in an attempt to cater to most businesses. Unfortunately, this type of language may allow clients to raise disputes. The words used must reflect the exact meaning that you intend to avoid any misunderstandings or bad faith arguments.
Complex Business Relationships
If your business works with a range of clients and vendors from various industries, a single business contract may not meet your needs. Chopping and changing a template is risky, as you may fail to include crucial information or leave unnecessary sections in the contract.
Not all clients will act with integrity. If there is room to exploit the conditions of your business contract, it could spell trouble. Business disputes are time consuming and sometimes costly. When you create a legal document to outline the terms of your relationship with a client, getting it right is essential.
To learn more about business contracts in Georgia, reach out to Attorney Mark Burr for a consultation today.