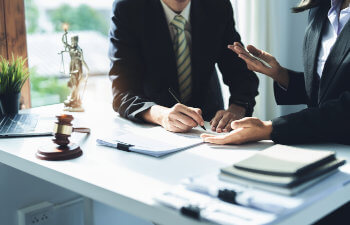 No matter the nature of your business, you will have to deal with other people. Whether that means customers, vendors, business partners or stakeholders, healthy relationships are crucial to success. Loss of trust can result in a company collapsing or facing legal woes.
By creating and agreeing to mutually beneficial legal contracts, all parties are afforded rights and protections. The nature of your business will dictate how those contracts are structured. An experienced lawyer in Alpharetta can provide support and corporate law services.
Vendor Agreements
Like you, vendors are running a business. You cannot trust that a provider will continue to offer best prices on word alone. Without contractual agreements, you may not have any legal recourse if terms suddenly change.
Vendors may offer standard contracts or negotiate special terms with your business. Before you agree to any arrangement, consider hiring a corporate contract lawyer. You may discover that the deal on the table does not benefit your company.
Employee Contracts
Employee contracts can prove tricky to create without relevant understanding of employment laws. Every business is unique, so using a template may not cover all the necessary bases. Hiring a lawyer can safeguard the interests of all parties.
Local, state and federal laws apply in employment contracts. Navigating these challenges requires extensive legal knowledge. You can reach out to Law Offices of S. Mark Burr, P.C. for support in Alpharetta today.
Strengthening Business Partnerships
The legal liabilities of business partners are enshrined in law. All parties should understand their rights and obligations. Failure to do so may result in financial losses. Unprotected individuals or entities may also face civil litigation or criminal charges resulting from unethical acts.
When you create business contracts that clearly outline the obligations of partners, it can create certain legal protections. As a business, you can also avoid long legal battles stemming the absence of any contractual agreements between company owners.
Clearly defining terms and reducing legal liabilities for concerned parties are two of the main benefits of business contracts. At Law Offices of S. Mark Burr, P.C., we can create documents that are custom-designed to address the needs of your business.
Call our Alpharetta offices today if you need help with a business contract.